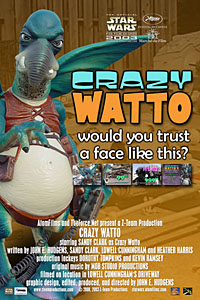 Showing in Cannes, May 19, 2005 at 11:43am!

FINALIST in the 2003
Star Wars Fan Film Awards!

What happens when a video producer, a writer, and the guy responsible for creating Men in Black get together with a camera and a bunch of toys? What would a bad cable commercial for Watto's Junkyard look like? Probably not this commercial, which spans the Star Wars galaxy (and others), but see what the Z-Team gang came up with...

AtomFilms and TheForce.Net Theater present a Z-Team Production
CRAZY WATTO
Edited, Produced, and Directed by JOHN E. HUDGENS
Written by JOHN E. HUDGENS, LOWELL CUNNINGHAM,
SANDY CLARK, and HEATHER HARRIS
starring SANDY CLARK as Crazy Watto
Filmed on location in Lowell's Driveway!

Maintained by John Hudgens<f-shysa@usit.net>.

Updated: May 5, 2005

Crazy Watto and all related original images © John Hudgens/Z-Team Productions