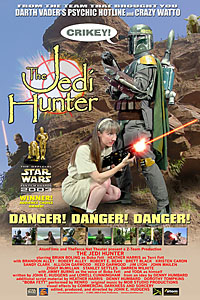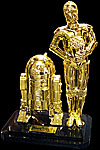 AUDIENCE CHOICE WINNER
in the 2003 Star Wars Fan Film Awards!
One of TIME Magazine's Top 10 Star Wars fanfilms!

The Jedi Hunter is a parody of both the Star Wars universe and the TV show The Crocodile Hunter starring Steve Irwin. Join the now-Australian Boba Fett as he canvasses the galaxy, hunting Jedi whereever he goes... Crikey, there's some feisty ones out there!

Atomfilms and TheForce.Net present a Z-Team Production
THE JEDI HUNTER
Edited, Produced, and Directed by JOHN E. HUDGENS
Written by JOHN E. HUDGENS and LOWELL CUNNINGHAM
from an idea by DENNY HUMBARD
additional script material by HEATHER HARRIS, DENNY HUMBARD,
and DOROTHY TOMPKINS
starring BRIAN BOLING as Boba Fett - HEATHER HARRIS as Terri Fett
JIMMY BURNS as the voice of Boba Fett
featuring BRANDON ALLEY, ROBERT ALLEY, ROBERT E. BEAN, BRETT BLACK, KRISTEN CARON, SANDY CLARK, ALLISON GARWOOD, REED GARWOOD,
JIM LYON, JOHN MAILEN, ZIGGY McMILLAN, STANLEY SETTLES,
DARREN WILHITE, and YODA as himself
"BOBA FETT" performed by RENKO
Original Music by MOB STUDIO PRODUCTIONS
Visual effects by COMMERCIAL DARKNESS AND SORCERY
Special Thanks to PETER MAYHEW for giving us the inspiration
That's right - Blame the Wookiee!