THE WIZARD OF SPEED AND TIME - The Production Team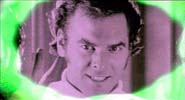 MIKE JITTLOV has been called a wizard since age 12, when he stunned audiences of professional magicians with his original illusions. Though listed in Who's Who, Jittlov's range of jobs, hobbies and eccentricities would probably better qualify him a listing in Ripley's Believe It Or Not.
A Los Angeles native with an impish humor, Jittlov was once responsible for half the UFO's seen over the city (and perhaps attracted the other half), while working weekends at Tussaud's Hollywood Wax Museum as a mechanical Grim Reaper. Miraculously emerging from his teen years without a police record, he hitchhiked across the U.S. with a giant hand on a stick, then across Europe for three months, on $500 - thus preparing him for the frugal but lonely life of an independent filmmaker.
Some of his more mentionable accomplishments include rafting down the Colorado 16 times (on crafts ranging from wading pools to plywood & inner tube dragonships); doing the first broadcast of silent movies on the radio (LA's KPFK); writing very, very small (24 lines per inch); whistling three octaves; and skydiving off San Pedro's Gerald Desmond Bridge at midnight.
While a math-language major at UCLA, Mike took an animation course to satisfy his art requirement. His first film, Good Grief, was entered by UCLA in the Academy Awards, and made it to the professional finals for nomination. That did it. Jittlov bought a 16mm movie camera, designed a multi-plane animation system for $200, and began two decades of a career as a professional dream-spinner.
His original filmshorts (including The Interview, Swing Shift, Animato and Time Tripper) won many top awards and repeat film festival screenings, bringing him to the attention of Walt Disney Studios. In 1978 Mike co-starred on Disney's two-hour TV extravaganza, Mickey's 50th, creating and animating the first stop-motion Mickey Mouse and 1,000 other Disney toys marching around a psychiatrist's office. He demonstrated his filmmaking speed on a Disney prime-time documentary, by creating the Universe in eight days (just one short of a record). And in 1979 he co-starred again, on Disney's Major Effects television special - this time introducing the world to the 500mph Green Wizard.
After working as Producer, Director, Writer, Editor, Actor, and Key Shlep on WIZARD (as well as 125 other jobs - many of them even competently), Mike Jittlov claims to have finally gotten filmmaking out of his system. He most recently designed the giant Ymir facade for the World Trade Centre in Vancouver, B.C., and climbed to the top of Mount St. Helens without a permit.
---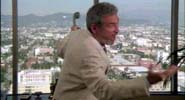 RICHARD KAYE, who serves as one of the feature's Producers both on and off screen (starring as villainous Hollywood executive Harvey Bookman), has brought to this film his 25 years of experience in the entertainment business, with an expertise spanning production, financing, marketing and distribution. Kaye began his career as a choreographer, and has produced more than 30 international and domestic live stage shows.

His feature film productions include Black Fist, starring Dabney Coleman, Philip Michael Thomas, and Richard Lawson. Most recently, he executive-produced The Tomb, as well as two videos, A Woman's Guide to Firearms, and Sport-A-Size with Tony Dorsett.

Kaye is especially knowledgeable in the area of marketing and merchandising. He has worked as a pre-sales, marketing and distribution consultant for Atlantic Releasing, Samuel Goldwyn, Thorn EMI and Telepictures. He also devised marketing campaigns for John Cassavetes' A Woman Under the Influence and Opening Night, Billy Jack Productions' Master Gunfighter, and Sanrio Films' Glacier Fox and Winds of Change.
---
After attending both the UCLA and USC Film Schools, then graduating from the American Film Institute, Producer DEVEN CHIERIGHINO became one of the trailblazers of the music video industry - producing and directing projects for United Artists and Capitol Records. His credits include producing Rocky Road, with 65 rock concert video shows for first-run syndication, to various special segments for MTV, Night Tracks, Friday Night Videos, and Night Flight.

Chierighino's other producing and directing credits include "Weightless Love" for The Future - What's Next (Landsburg - NBC), The Black Hole TV special (Disney - NBC), The Secret of Making Money (Cable Vision), the classic "Mouse Mania" sequences for "Mickey's 50th" TV special (Disney - NBC), The Dream Finder Run for EPCOT's Imagination Pavillion, and numerous segments for The Disney Channel.

His extensive experience as cinematographer and director, combined with his expertise as producer on Jittlov's original short film, The Wizard of Speed and Time, made Deven Chierighino the most natural collaborator on the WIZARD feature.
---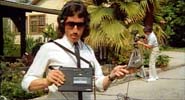 Coming from a television background of scoring episodes for Spelling-Goldberg's Hart to Hart, T.J. Hooker, and Michael Landon Productions' Little House On the Prarie, Composer JOHN MASSARI moved on to numerous music assignments with The Walt Disney Company - composing the themes for The Wonderful World of Disney, Disney's 50th Anniversary, A Disney Christmas, The Disney Channel, and the grand opening for Disney World's EPCOT Center.

With A&M Films, John Massari composed and conducted the score for White Light; and for HBO, the timeless theme music for The Ray Bradbury Theater, for which he was nominated an Award For Cable Excellence as Best Original Score. His imaginative music for Transworld's Killer Klowns From Outer Space has earned him the 1989 nomination for Best Original Score from The Academy of Science Fiction and Fantasy Films.

Concert pieces include a suite for orchestra, entitled "Intimita"; a ballet oratorio based on Mark Twain's powerful poem, "The War Prayer"; and "First Suite", commissioned by the United States Air Force.

Massari is currently working on getting a soundtrack CD released of the full score from TWOSAT, hopefully by the end of 1997.
---
Director of Photography RUSSEL CARPENTER was born in Van Nuys, California, where a summer school screening of Ingmar Bergman's Persona became a powerful inspiration for his career in cinematography.

While majoring in television production at San Diego State University, Carpenter interned at KPBS-TV. He garnered two local Emmys and was nominated for a third with the station, as well as receiving two Cine Golden Eagle awards. He also worked on a number of documentaries, including The Real Rookies and American Indian Artists. Soon after, he was director of photography on ABC's "Rolling Stone Magazine 20th Anniversary Special", KCET's "The Emancipation of Mary Todd Lincoln", and the HBO comedy special "Women of the Night".

Russ Carpenter's feature cinematography work includes Sole Survivor, Cameron's Closet, New Line Cinema's Critters II, The Lawnmower Man, producer-director Frank LaLoggia's haunting masterwork, Lady In White, and James Cameron's True Lies and Titanic, which won him an Oscar for Best Cinematography.
---
Sound Effects Designer STEVE MANN has been officially credited with creating and designing unique and innovative soundtracks on over 25 feature films - and not credited on a few dozen more.

He began his career as a singer/composer and record producer in the Midwest. After producing two albums and numerous singles, Mann went on to attend Northwestern University, where he majored in music theory and arrangement. Following that, he went to work for the Quaker Oats Company and Fisher Price - writing music, conducting symphonies, editing and creating the soundtracks for numerous high budget industrial films, commercials, and corporate multi-media shows.

In 1979 he left all his work relationships behind, moving to Los Angeles to fulfill his dream of working in features. Mann climbed the ladder rapidly into the feature mainstream, and found his talents put to good use. His recent credits include Lady in White, Under the Cherry Moon, 14 Going On 30, and On Wings of Eagles, to name just a few.

Steve Mann currently owns and operates Sound Surgeon Inc., a successful post-production sound facility in North Hollywood, where he's been able to bring his professional experience to many motion pictures and television movies.

For the next page about the Cast of The Wizard of Speed and Time, click on the Wizard Logo Below...
Return to The Wizard of Speed and Time Main Page
Return to Z-Team Productions
---
Maintained by John Hudgens<f-shysa@usit.net>.

The Wizard of Speed and Time and related images © Mike Jittlov
Updated: July 31, 1999
Copyright 1997 John Hudgens - All Rights Reserved